AUTO ACCIDENT ATTORNEY KNOXVILLE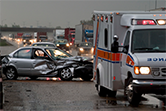 One of the ironies of being injured by another in an automobile accident is that the burden to do something about recovering for your medical expenses, lost wages from work, pain and suffering, etc. falls on you. This is so counter intuitive to the good lessons our parents taught us. Our parents taught us aphorisms such as "if you make a mess, you clean it up," "if you break something, you replace it," and "you need to take responsibility for your actions."
Insurance companies give lip service that they are there to help when you need them. They say you are in good hands, that they will treat you like a good neighbor and that they are on your side. But the truth of the matter is that the insurance company's primary objective is to minimize as much as possible the value and recovery of your claim. They are not going to tell you the real value of your claim. Rather, it is up to you to prove the value of your claim, and convince the insurance company to pay what your claim is worth.
It is just wrong for insurance companies to offer hardworking people who only want to be fairly compensated for their injuries a fraction of what their claim is worth especially when you take into account that this person is trying to recover from their injuries, has the stress of scheduling doctor appointments, of mounting medical expenses, of missing work, and is frustrated and depressed by their injuries basically doing all they can do just to make it through the day. It is just wrong, but that's the way it is. The truth is you're the one that is injured and having a tough time, but IT'S YOUR MOVE. It's up to you to put your case together so that you will be fairly compensated for the injuries you received.
My passion for personal injury cases is that I hate insurance companies that take advantage of injured people and I love helping people that are going through a tough time in their lives to receive fair compensation for their claims. IT'S YOUR MOVE, but you don't have to make that move alone. Contact me today to set up a free initial consultation.
Tractor Trailer Accidents
Tractor trailer accident cases are one of the most interesting and complicated personal injury cases I have the opportunity to handle. My experience has been that truck driver fatigue is usually the cause of a tractor trailer accident and the injuries sustained from such an accident are usually very serious or fatal. These cases, in particular, require very detailed, thorough investigation to lock down the negligence of the driver and to prove driver fatigue. The person causing this accident, the company he is driving for and other persons involved in the accident are often located out of state.
If you or a family member have been injured in a tractor trailer accident, please contact me today. Time is of the essence in investigating this type of case. Contact a Knoxville lawyer from the Law Firm of Paul Hensley.