DUI LAWYER KNOXVILLE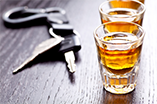 DUI is a criminal charge that is based on the opinion of an officer that many good citizens find themselves facing that would never ever be considered a candidate for committing a crime. The charge of DUI effects citizens with no prior criminal history, of all ages, from all professions and walks of life. Sadly, because DUIs are based on the opinion of the officer and must meet certain legal criteria, a DUI charge can easily be brought against a citizen that is innocent of the charge.
Frequent DUI Cases in Knoxville
The following not all inclusive list of cases are representative of prior clients that a Knoxville DUI lawyer at the law office of Paul Hensley represented and who were charged with DUI and either had their cases dismissed or reduced to reckless driving. These are people with no prior or very little prior criminal history. Some did make poor choices; many were going through tough times and some did nothing wrong at all.
The person who has something slipped in their drink;
The person who has lost a spouse or loved one and is dealing with grief and depression;
The person who was charged with DUI but was not even driving or not in physical control of their vehicle;
The person who, regardless of how much they had to drink, did nothing to warrant being stopped by officers;
The person who was forced to drive because of a medical emergency;
Many cases are affected by laws most people do not know exist. Tennessee laws for DUI infractions are strict because of the high volume of cases prosecutors review. Several federal laws, and Tennessee legislation affect the direction of your case. Common penalties for first offense DUI offenders are a few months in jail, license revocation, and probation. The most severe penalty for first-time offenders is 11 months and 30 days in jail, unless you are also charged with vehicular manslaughter.
Related Articles:
The Law Office of Paul Hensley is available Monday through Friday from 8am to 5pm. Do not hesitate to call us. You don't want to be in this situation, and we want to get you out of it. Know that there's a Knoxville, TN, lawyer available to defend you.