DUI Attorney KNOXVILLE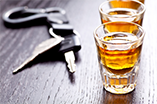 A conviction for driving under the influence (DUI) of alcohol or other intoxicating substances can have a major impact on a person's life. Although most people understand that DUI is illegal, there are certain steps you can take if you are suspected of DUI to minimize the strength of the charge against you.
5 Things You Should Do When Pulled Over for DUI
1. Pull Over Carefully
When a DUI charge involves bodily injury, the offender can face additional charges and enhanced sentences. So, if you are pulled over for DUI, it is important to park your car carefully in a safe location.
2. Be Polite and Cordial with the Officer
A police officer will automatically be evaluating your demeanor when you are suspected of DUI, but assaulting a police officer or resisting arrest can lead to additional charges being brought against you. Therefore, you should be polite and cordial with the police officer to avoid these situations.
3. Do Not Disclose More Information than Necessary
It is important to understand that you are not obligated to disclose where you have been that night or if you have been drinking. Often, people tend to offer too much information to the officer that pulled them over. This information can be used against them later. If you are suspected of DUI, keep the conversation short and disclose as little information as possible.
4. Should I Take a Field Sobriety Test?
A driver is under no obligation to take a field sobriety test under Tennessee law. Moreover, a driver cannot be penalized for refusing to take a sobriety test under in Tennessee. When a field sobriety test is administered, it is usually recorded. This evidence can later be used in court to demonstrate a driver's level of impairment. Due to this, if a driver knows they are impaired, it is advisable to decline a field sobriety test.
5. Should I Take a Breathalyzer Test?
The answer to this question is a matter of judgement and depends on a number of factors, including whether or not an offender has a previous DUI conviction. However, it is important to understand that refusing to take a breathalyzer can be used against you in a court of law. Moreover, Tennessee, like many other states, has an implied consent law.
Tennessee's Implied Consent Law
Tennessee's implied consent law allows police officers, who have probable cause to believe an individual is driving under the influence of alcohol or other intoxicating substances, to request that a driver submit to a breathalyzer or blood test. Additionally, any operator of a vehicle in the state of Tennessee has given their implied consent to both blood and breathalyzer tests by obtaining and accepting a driver's license. Refusing to submit to a breathalyzer test is considered a Class A misdemeanor that, in addition to any criminal sentences, will result in the suspension of the offender's driver's license for a year.     
Penalties for DUI in Tennessee
An individual's first DUI offense is a misdemeanor punishable by 48 hours to 364 days in the county jail, if the offender's blood alcohol content (BAC) was lower than .20%. If the offender's BAC was above .20%, the minimum jail sentence changes from two to seven days in the county jail. Moreover, the offender will have to pay a fine, have their license suspended for one year, and pay restitution. However, an offender is eligible for a restricted driver's license during the license revocation period.  
Repeat Offenders
The punishments for a DUI conviction are intensified for repeat offenders. The classification of the offense, mandatory fines, jail sentence, and period of license revocation for an offender's second, third, and fourth DUI conviction are listed below:
Second DUI:

Class A misdemeanor offense

45 to 364 days in the county jail

Fine of $600 to $3,500

License revocation for two years

Third DUI:

Class A misdemeanor offense

120 to 364 days in the county jail

Fine of $1,100 to $10,000

License revocation for six years

Fourth DUI:

Class E felony offense

120 to 364 days in the county jail

Fine of $3,000 to $15,000

License revocation for eight years
DUI Lawyer in Knoxville, TN
A DUI charge is a serious matter. Paul Hensley is a DUI attorney in Knoxville, TN that will guide you through the legal process, determine if your arrest was legitimate, and judge the strength and validity of the evidence being used against you. Don't risk your future. Call our office today for a free consultation.
Related Articles:
The Law Office of Paul Hensley is available Monday through Friday from 8am to 5pm. Do not hesitate to call us. You don't want to be in this situation, and we want to get you out of it. Know that there's a Knoxville, TN, lawyer available to defend you.
Other Practice Areas